We Youth – our partner from Tunisia was represented by five great youngsters. All of them had so much talents and were vibrating and sharing joy. It was such a pleasure to have them at our exchange.
They have helped us understand Tunisian culture and history and introduced to us the less known Amazigh culture that is one of the basic elements in the country's identity.
Tunisian team presented the Amazigh alphabet and after that participants wrote their names in this alphabet, helped by their fellow colleagues. Participants also learned some basic words that allowed them to discover the Tamazight language. Two participants from the Tunisian team interpreted some poems and songs (one girl was singing with the voice and playing the guitar, while another participant was playing the darbuka – a traditional instrument brought from Tunisia by them). Tunisian group started teaching the others some easy songs that were presenting the Amazigh history.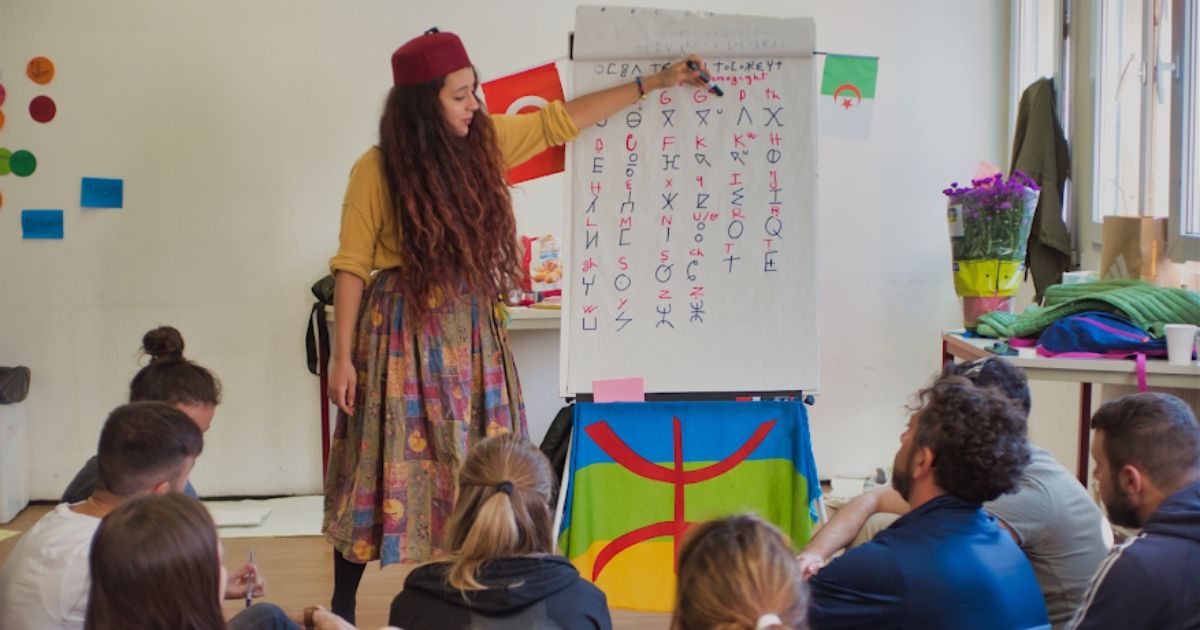 Participants were amazed to discover a new culture, about which most of them never heard in their lives. They were very engaged and asked multiple questions about the Amazigh communities and how are they included in the Tunisian society (social, educational, economic and political). They we also very surprised that Tamazight language is an official language in Tunisia.
Tunisian "chechia" hat
The next part was for us to create a traditional Tunisian "chechia" hat, used in weddings and traditional events and to discover what is usually happening during these events.
Participants learned that the "chechia" it is an important element in the outfit of Tunisians in traditional event and gatherings and each of them created his/her own hat on a keyring to keep as souvenir. We used bottles-recycled caps that were covered in a red material and then the key ring has introduced. At the end of this session, participants gathered together and they re-created a traditional Tunisian wedding ceremony.
Participants were very happy that they have new craft to add to their collection of Passport to Culture souvenirs and were happy to discover the similarities and differences between the Tunisian culture and their own in terms of traditional weddings.
The project Passport to Culture is coordinated by Sunrise Project France in collaboration with Youth Dream Algeria, Armenian Progressive Youth, The Change is in You Bulgaria, AISI Youth Alliance Georgia, Cilento Youth Union Italy, People of Delta Romania and We Youth Tunisia. The project is funded by the Erasmus+ programme of the European Union.