Today's article is about a very special person. Translated, her name means "cheerful", and she is exactly that. A person who can light up the room with their smile. Her love for photography, travelling and life has taken her many places. She finds beauty in the small things, experiencing them everywhere she sees them and helping us enjoy them as well. I hope this article brings a smile to your face, as she tells you more about her inspiring experiences all around the world.
Hi! Can you introduce yourself?
Hey, I'm Vessy and I'm currently a 3rd year student in marketing and strategic planning, but I'm interested in aesthetics, travels and photographing these two.
Can you tell me more about your travels? 
I have been traveling a lot in Bulgaria when I was in school, but since I started university, somehow the world opened up for me. After my first year in the university, I went on a work&travel program in New Jersey, the USA. I was working as a waitress in the summer of 2018. With the money I earned there, I visited England for a week a month after the USA. I saw the rainy London, the student town Coventry, Shakespeare's birthplace – Stradord upon Avon and Birmingham. The last summer started with a trip to Greece and finished with a week in Turkey, because in the gap between I still had to work. Then I packed my 30kg luggage for my Erasmus semester in Hof, Germany. After lots of tears and a panic over not understanding all the surrounding Germans (although I studied the language for 5 years in high school) I landed in autumn Germany. After meeting my travel buddies, I had the opportunity to visit Munich, Salzburg, Prague, Copenhagen, Cologne and Amsterdam. I've never imagined that it's possible to go with absolutely no money and still get everything that the city can offer you (well, almost).
You have been a volunteer in AIESEC for many years now. How has that changed your outlook on traveling?
AIESEC didn't have that much of an influence to my outlook on travelling because I was more focused on the internal communication and the people there, but still the projects made me think that actually you can go to any country you have the courage to visit.                                                 
You've also spent a Semester studying abroad in Germany on an Erasmus Program. What was that like?
I didn't like the atmosphere that much, since it was rainy and lonely, but in fact what I liked that there were international students there. I met people from all around the world: Peru, Uganda, India, Greece, Japan.        
 What did you like the most and what did you like the least?
What I liked and disliked was actually the depressing atmosphere that made me study a lot. By this in fact made me focus on myself and in the end I started enjoying spending more time on my own.                                   
You have many international friends. Was it hard to build a connection with people with different cultural background?
It was a big surprise for me, how easily I connected to my Peruvian friend. We found many things in common, and we started sharing personal stories from the first day. The world is small and you can definitely find your soulmate even from the opposite side of the globe.         
Will you be travelling again when the pandemic ends?
Yes, first on my list is Jordan – Petra and the desert Wadi Rum, but I think that I will need some time, a year at least, to make sure that everything is already under control and it's safe to travel.
How have these experiences changed you?
All the travels made me more punctual (haha, especially in Germany), open-minded and taught me to appreciate and love myself. Because having the opportunity to meet people from the whole world, confirms the belief that everyone is just a human and that we are not actually that different. But on the other hand, this also encouraged me to be myself, inspired me to express more confidently my ideas and to appreciate my unique parts.
 You've also worked in America! What was that like?
As a J1 student there it wasn't the best experience that you can have because when you're working as the lowest class you are treated as a slave. Moreover, they think of you as a really poor person who's interested only in the money. And after coming from your country, where you've been valued going to work there may ruin your ego (and nerves).                 
What difference in culture did you notice?
The difference that I found was that people were really kind and friendly to each other, starting a small talk with everyone they see on the street and after the person leaves, I have personally seen my boss talking behind the back of the same "friend". But in general, not everyone is that sly. I have made some good friendships.                                                               
Did you like it? Would you consider going there again?
What I liked in America is the freedom that you feel there, because you can earn money with just being a waitress and you have enough income to allow yourself every other and luxury in life. The standard of living is definitely higher there and that's what is attracting many people. But personally, I will visit America again only for a tourism. I really want to see the Grand Canyon and Niagara Falls.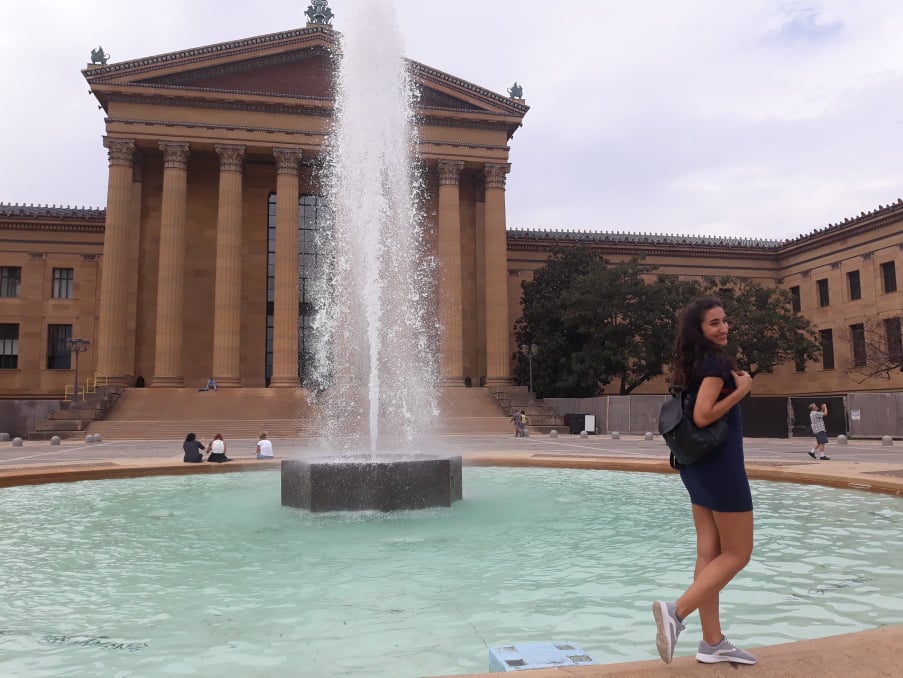 What's the craziest travel story you have?
Hahahaha, it's the whole travel I had. Okay, it all began with a friendship that began during the Octoberfest in Munich. I totally didn't know the guys, but we already promised each other that we're going to visit Amsterdam, and we have set the deadline till the end of the semester. To be honest I never thought that it will happen.
Even though we met in October, our planned trip happened in the last three-four days of my stay in Hof, Germany for my Erasmus exchange semester. We went to Holland in February. What started out as a friendly conversation over a couple of beers with some people I had just met, turned into a serious plan a few months on. It turned out all of us wanted to go to Amsterdam, so we made a promise to visit it by the end of the semester – that was our deadline. I didn't even actually think it was going to happen, as we had so many obstacles to overcome to get there. The plan for our last excursion was to go to Austria and Slovakia, but I felt like I wanted to visit Holland more. I spontaneously checked the bus for Amsterdam and it was only five euros! I knew I had to go.
Everyone had forgotten about our little promise from the beginning of the semester, so I gently reminded them now that I saw how cheap the tickets were. We decided to go through with this instead, but we only had half a day to plan. It was so cool to know we were actually going to keep our promise to each other! However, the Coronavirus outbreak panic was already in motion since January. But it was very important for us to go, so we didn't let that stop us. We also managed to find masks, even though the drugstores had none.
This was happening on the 10th of February, while the weather was being very moody – one hour it was sunny, the next – it was raining. It felt like we experienced the whole four seasons in one day. There was even snow! I also had my toughest exam scheduled for this day, and my feelings were very mixed – I didn't know whether to go through with it. And also there was a storm coming out in Germany. Everyone was afraid of it, even the trains weren't working, but we didn't let that stop us. Also, to add even more tension, we had just found out there was a storm coming in Amsterdam as well. But nothing could stop us! We went to the train station to catch our transportation – but what did we see? The train was cancelled. We had already bought the tickets, and we had no other way to get to Nuremberg, where we were supposed to catch the bus to Amsterdam. It turned out one of the people had a German friend with a car.
Long story short, we called him, and he drove us where we needed to go. It was getting pretty late though, but we were still not giving up. But then another obstacle came about – the highway was closed. No worries – we took another path through the forest. And then we got stuck driving behind a slow truck. We had to call the bus to ask for them to wait for us, since we were eight people. But of course – they refused. So we did our best and got there one minute before the departure time. One minute! After getting to our destination at 6 Am, we were welcomed by the other storm and some awful weather. It was like bad luck was on our tail, but we didn't let it get us down. Even after getting there, we still had some adventures ahead. After going on the free walking tour, and hearing a bit more about the canals, our guide's phone fell inside. And last but not least – while sitting in a café, one of the visitors fell down and got candle wax all over her. I was half a meter next to her and I didn't even get a tiny stain. Even though we were followed by bad luck, we had so much fun! For us, it wasn't a trip, it was a whole adventure. It's the best thing in the world to share these crazy experiences with people from all over the world.
This article was written by Detelina, volunteer at Sunrise Project France since April 2020. She is a bulgarian citizen and likes to learn, write, cook and meet new people.