You can read part one of this series here.
You can read part two of this series here.
 Czechia
Alphonse Mucha (1860-1939)
Alfons Maria Mucha, better known as Alphonse Mucha, was a Czech Art Nouveau painter and decorative artist, known best for his distinct style. He produced many paintings, illustrations, advertisements, postcards, and designs.
You can read more about him here.
 Serbia
Pavle Jovanović(1859-1957)
Pavle "Paja" Jovanović (Serbian Cyrillic: Павле "Паја" Јовановић) was a Serbian Realist painters, along with Uroš Predić and Đorđe Krstić. Jovanovic is perhaps best known for his early works used ordinary peoples during ″oriental cycles″. He is considered one of Serbia's greatest "orientalist". His most significant works are: The Wounded Montenegrin (1882), Decorating of the Bride (1886) and Migration of the Serbs (1896). He also painted many famous portraits.
You can read more about him here.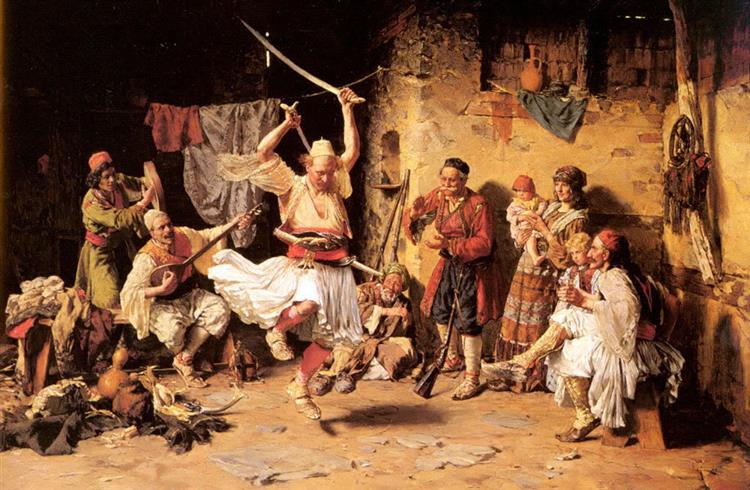 Ireland
Paul Henry  (1876 – 1958)
Paul Henry is an Irish artist known for landscape paintings of West Ireland in post-impressionist style: lush grasses, cloudy skys and clear lakes. Henry spent a short period of his life and in this time he influenced by the realism of Jean François Millet, one of the founders of Barbizon School in France. Henry is one of the best-known artists of Irish art history.
You can view his artwork and read more about him here.
Lithuania
Algirdas Petrulis( 1915 – 2010)
Algirdas Petrulis was a Lithuanian painter. Petrulis studied at the Kaunas School of Art. He later taught at the Vilnius State Art Institute (now the Vilnius Academy of Fine Arts). He became associate professor in 1968. He was interested in modern French art, and his artwork was richly nuanced with a highly sensitive color palette.
You can view his paintings here.
Latvia
Līga Purmale (born 1948)
At a young age she moved to Riga from the Latvian countryside to study painting, first at the Jānis Rozentāls Art High School and then at the Latvian Academy of Art. In the 1970s she and Miervaldis Polis, who was her husband at the time, started a new trend of photorealism in Latvian painting. She currently lives and works in Riga.
You can view her works here.
Croatia

Vlaho Bukovac (1855-1922)
Vlaho Bukovac was a Croatian painter. His life and work were eclectic, for the artist pursued his career in a variety of locales and his style changed greatly over the course of that career. He is probably best known for his 1887 nude Une fleur (A Flower), which he created during his French period and which received attention in various reviews and publications during his lifetime.
You can view his work and learn more about him here.
Bosnia and Herzegovina
Mersad Berber (1940-2012)
Mersad Berber was a Bosnian painter and printmaker. Known for his particularly skilled draughtsmanship in depicting historical and contemporary Bosnian events, Berber frequently employed techniques based in the traditions of Academic European painters like Jean-Auguste-Dominique Ingres. Born on January 1, 1940, in Bosanki Petrovac, Yugoslavia, he went on to study at the Academy of Fine Arts in Ljubljana. Berber later fled to Zagreb, Croatia from Sarajevo in 1992 during the war, and remained there for the rest of his life. His works are in private and public collections that include the Tate Gallery in London. Berber died on October 7, 2012, in Croatia.
You can view his work and learn more about him here
Slovakia
Vladimír Popovič (born 1939)
Vladimír Popovič is a Slovak painter, visual artist and a professor. He is an important Slovak artist whose work spans over 50 years.
You can view his work and learn more about him here
Estonia
Evald Okas (1915-2011)
Evald Okas was an Estonian painter, probably best known for his portraits of nudes.
You can view his work and learn more about him here.
Denmark
M.C. Escher (1898 – 1972)
Maurits Cornelis Escher was a Dutch graphic artist who made mathematically inspired woodcuts, lithographs, and mezzo tints. Despite wide popular interest, Escher was for long somewhat neglected in the art world, even in his native Netherlands. He was 70 before a retrospective exhibition was held. In the twenty-first century, he became more widely appreciated, with exhibitions across the world.
You can view his work and learn more about him here.